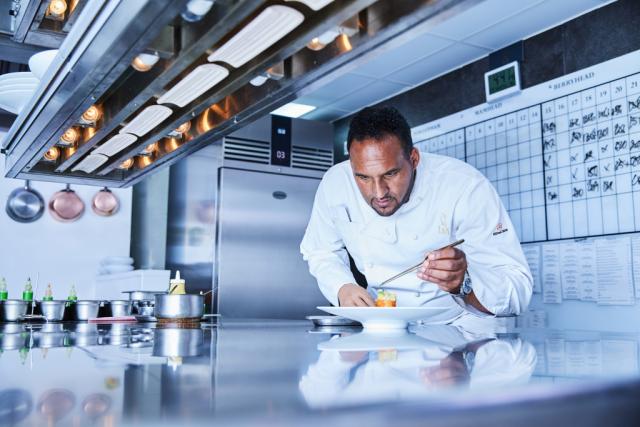 Which fridge is right for
my kitchen?
This is a very subjective question and depends on a variety of factors:
Environment: where will it be located

Menu: what type of food is being produced and are there specific equipment types

What type of food: chilled / frozen /meat / fish

Demand: back of house low use or heavy duty in the cook-line
We've put together some useful advice to make your decision easier.
Commercial refrigeration is designed for higher use than standard, domestic fridges and freezers, therefore they are typically more robust and chock full of features to make them more reliable in demanding kitchens.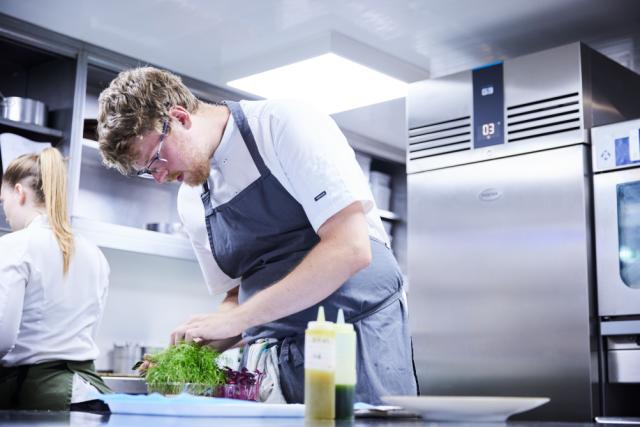 Pre-purchase decisions
Cost
The old adage is you get what you pay for, but you can still get quality products if available capital is a limiting factor.
To make sure you get the best refrigeration, companies, such as Foster, offer a 0% interest-free credit scheme allowing you to spread the cost over 24 months. Basically, you can pay for your equipment while it works for you!
Kitchen layout
Consider your kitchen as a food preparation factory. In keeping with the requirements of HACCP and cross contamination, refrigeration equipment should be located to support food flow through the kitchen. This could be back of house coldrooms feeding fresh ingredients into point of preparation counters for preparing food that may be loaded into adjacent ovens or frozen food into under broiler counters feeding top mounted grills. Introduce a blast chiller for post cooking to preserve the shelf life of food that may not be required immediately.
Consider working with your local dealer or kitchen consultant who will have a depth of experience in laying out your kitchen to maximise efficiency and minimise waste.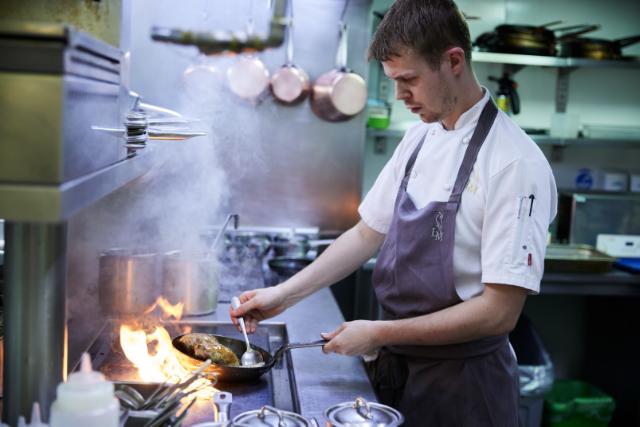 Climate class
As many chefs will tell you, kitchens can often reach extremely hot temperatures, which means your refrigeration will need to work harder to maintain safe storage temperatures. If you delve into a product's specification, you will see a climate class associated with a product – this essentially recommends the environment suitable for a product. Most professional storage refrigeration designed for use in kitchens is rated to either climate class 4 (up to 30°C ambient, and a relative humidity of 55%), or in the example of our class leading EcoPro G3 cabinets, the heavy duty climate class 5 for more demanding kitchens (40°C ambient with a relative humidity of 40%).
The key is to use the right product in the right environment, so choosing a CC4 product going into an air-conditioned location will more than likely be fine for the requirements placed upon the product. As food safety is at stake, we'd always recommend expert advice for finding the right product for your specific needs.
Top tip
Check the spec and choose the right product for the right environment
Does it fit?
Your manufacturer or dealer may be able to measure it for you. The Achilles heel for many heavy equipment purchases is that it actually fits in the space and can access the kitchen in the first place. This can incur additional costs and delay the process of getting your kitchen up and running again. This is also the time to consider whether you want a straight replacement or want to optimise your kitchen – again it is best to speak to a refrigeration expert if you are considering rearranging your products or processes. Some simple recommendations or changes, such as the correct orientation of hinging, can go a long way to simplifying your operation. For counters consider equipment with drawers, as your staff could be using the counter constantly during the busy periods and small ergonomic improvements can make a big difference to your teams. For sandwich and pizza prep dedicated prep table can really improve the efficiency of your colleagues.
Top tip
Check the dimensions and capacity, and don't forget the access to the kitchen!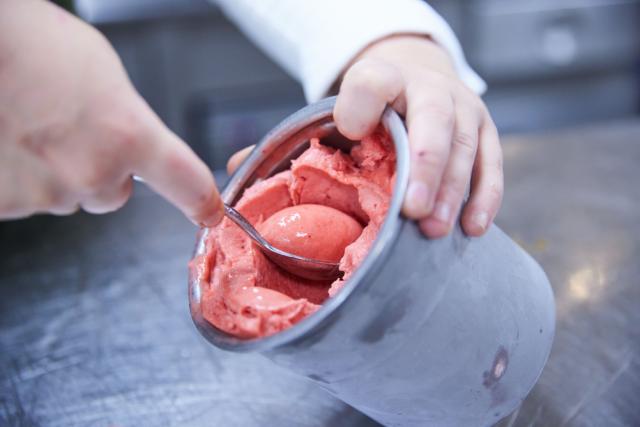 Delivery
If your fridge breaks down, you need a replacement ASAP. How quickly do you need the refrigeration? Quite often break downs trigger a new purchase, making it a stressful situation, so when ordering check the delivery terms. Some manufacturers offer free next day delivery, presenting a saving of over £130 in many cases!
Top tip
Check for providers offering free next day delivery to avoid a sting in the tail!
Total cost of ownership
Of course, the initial price is what most people consider, but its equally important to think about how much your refrigeration will cost over its lifetime.
A good quality product may have an initially high purchase price, but when factoring in energy consumption, reliability, spare parts availability, product support etc., it will often make far greater sense to invest more in the short term and save in the long run.
Financial help is available from selected manufacturers offering 0% interest-free credit to help spread the cost of a purchase over 24 months, thereby helping with cashflow. Make sure to understand who is providing the credit – are they a trustworthy provider, and check there are no catches or hidden costs.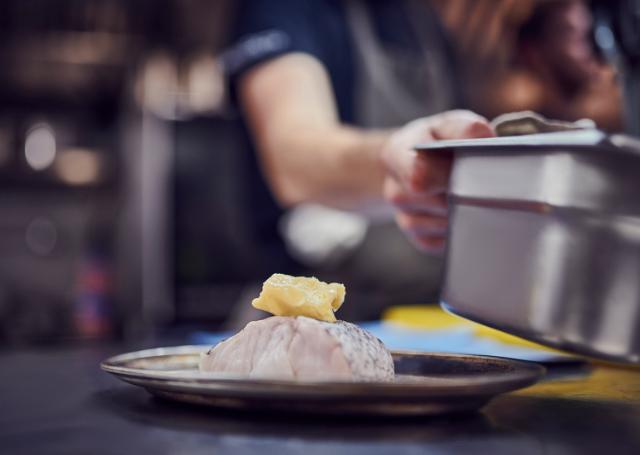 Top tip
Look out for financial offers such as 0% interest free credit to help spread the cost of your initial outlay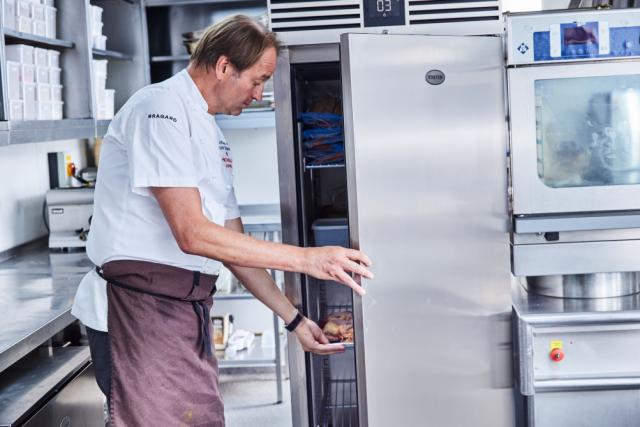 Usage considerations
Hygiene
Refrigeration with visible screw fittings can be harder to clean, as dirt can get trapped. Look out for products with radiused internal corners at their base for example – this is often where dirt can build up. Refrigeration will tend to have shelving, which is supported by racking supports either side of the unit – if these are removable this will help with a regular and rigorous cleaning regime. Another consideration is whether your refrigeration is on wheels, as this will make it easier to clean beneath and around the unit.
Look out for fridges made from a 304 stainless steel option – this is the gold standard in performance finishes, and its properties better protect from corrosion caused by oxidising acids, a common problem with regular cleaning regimes.
Read the instructions supplied with cleaning chemicals. They have been extensively developed and tested by the manufacturers and must be used in the recommended concentrations. More importantly the cleaning chemicals should be washed off with clean water and dried. Leaving any cleaning chemical on the surface, particularly in a concentrated state, can result in corrosion.
Top tip
Look for refrigeration with removable fittings and no visible dirt traps
Energy use
All professional refrigerated storage cabinets should be supplied with refrigeration units in scope of EcoDesign - the label looks the same as any electrical items you've purchased for your home.
The more energy efficient a refrigeration unit is, the higher their grade will be, for example A+++ is the highest. Leading manufacturers have invested heavily in reducing energy consumption and as refrigeration is one of the few pieces of equipment likely to be running 24/7, your energy bills can quickly add up for an inefficient unit.
Reliability / hold temperature
Refrigeration graded under EcoDesign is subject to a stringent test regarding its temperature control performance. For example, a storage refrigerator must keep food within the M1 temperature banding of -1 / +5°C with a punishing door opening regime to boot.
However, just because a fridge can pass a test, doesn't mean it will actually perform in the real world. Look out for innovative features such as low maintenance condensers – these help to prevent a condenser blocking up, which could ultimately lead to a fridge not performing as it does when new. A condenser study conducted in Nov 2015 noted that a fridge with a traditional condenser suffered a 35.8% energy performance reduction compared to Foster's EcoPro G3 fridge fitted with a +stayclear condenser after 12 months in simulated conditions.
That's why you should always buy from a brand trusted by the professionals, so do your homework before making your final purchase. An unreliable fridge can result in spoiling and losing lots of food, ultimately meaning lost revenue or worse, the potential of food poisoning.
Top tip
Reliable and efficient refrigeration means your food is fresher for longer
Post-purchase
Warranty & Technical Support
Refrigeration should be sold with a warranty, and most reputable refrigeration manufacturers offer a no-quibble warranty.
Make sure that there are service and spares provisions to assist you if you have problems with your refrigeration. This is where you may want to consider where your manufacturer is located – buying British can have significant benefits when it comes to parts availability. At Foster for example, we hold 98% of spares in stock which are available for immediate dispatch, and we can even provide advice on getting them fitted.