Foster Celebrates Golden Anniversary
In the year that The Beatles released their revolutionary White Album, we at Foster Refrigerator were just starting to produce a few commercial refrigeration masterpieces of our own!
2018 is the year we will be celebrating our 50th anniversary in style - with a calendar of commemorative events throughout the year, with plenty of opportunities for customers and staff to join in.
Foster Refrigerator (UK) Ltd. was registered in 1968, and our King's Lynn factory opened the same year, becoming the first company to produce commercial refrigeration in the UK.
The plant was extended two years later and the site has grown over the years - Foster now has six plants, spread across 14 acres.

It's on special occasions like this that you reflect on your past, and our highlights include being granted a Royal Warrant by appointment of Her Majesty the Queen in 1994, and becoming the first and only commercial refrigeration company to attain the Carbon Trust Standard.
We've dug out some of our favourite images from over the 50 years – a great trip down memory lane but we'd perhaps rather forget some of the haircuts on display!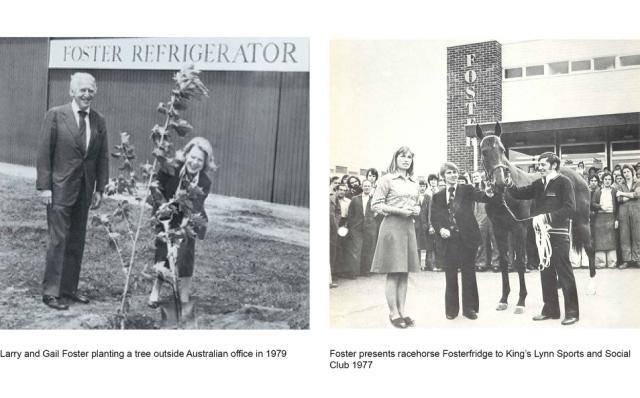 "We are delighted to have reached our golden anniversary," Paul Veried, Managing Director of Foster said. "It is a great accomplishment. Our history is so important to us, and along with a strong sense of innovation, we have a great foundation for the years to come. I'd like to thank all of our loyal customers – without you, we wouldn't be Foster."
"Many of our staff have worked within the company for over 40 years," he continued. "Their experience and knowledge is invaluable and they are still so passionate about what they do, which is vital in teaching future generations as to what it means to be Foster."
Our sister company Gamko are also celebrating their 60th anniversary this year and will be joining in with our celebrations, as well as a few of their own.
Look out for more announcements and an exciting competition coming soon!