Coldstores: A Simple Guide
Whether you're considering performance, longevity or environmental impact, Foster coldrooms are built differently. Read on to find out more about the best option to suit your needs.
Firstly, what is a coldstore?
Coldstores, or coldrooms, are walk-in refrigeration units dedicated to storing chilled or frozen produce. Typically, they maximise storage space, add convenience to your back-of-house set-up and, crucially, prolong shelf-life and reduce costly deliveries into your business.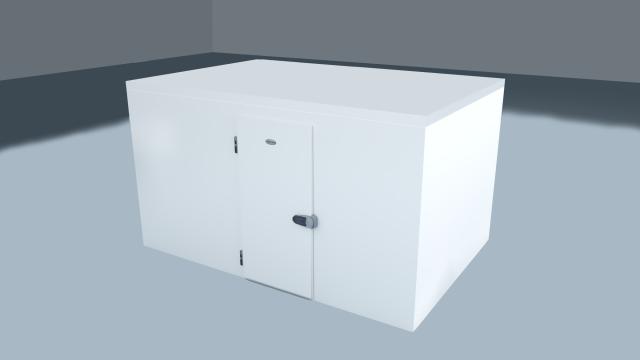 Choosing the right coldstore for you
There are five key considerations when it comes to designing your perfect coldstore:
1) The size/capacity
2) Location
3) Configuration
4) Refrigeration type – integral or remote
5) Energy efficiency
1) Size/capacity
The beauty of a Foster coldstore is that it can be made to fit whatever space you have, but to make sure you choose the right size, with the right capacity, ask yourself these questions:
How many covers are you serving in your establishment?
Across restaurants and pubs, schools and hospitals, requirements can vary greatly. Arm yourself with the facts to determine the best-sized coldstore for your needs.
What type of food are you looking to store?
This will dictate the temperature you'll need your coldroom to operate at. Are you looking to store frozen products or refrigerated, meat products or speciality products such as fish?
Is the coldroom big enough to support your future expansion plans?
It's always worth future-proofing your plans – do you expect your business to expand in the upcoming years if so, investing in additional capacity will save you significant money in long run.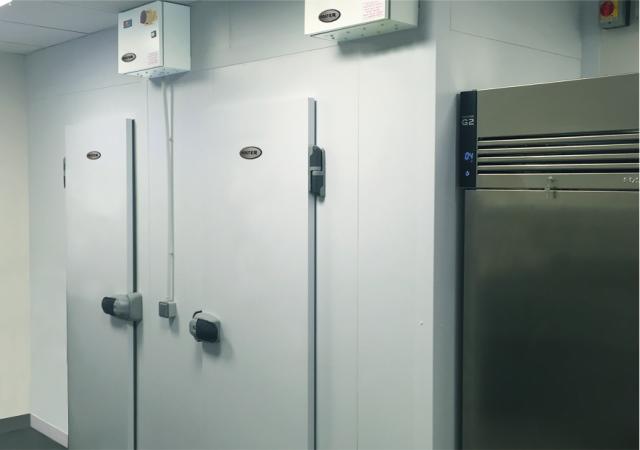 2) Location
A coldstore can be constructed in the available space inside or if you need extra space, built as a standalone unit outside (also known as external coldrooms).
It's important to consider where the coldroom is in relation to the kitchen and its entrances, so that your team can easily move between storage areas. It should fit seamlessly into your team's workflow. Leaving adequate space in front of your coldroom will allow a hassle-free experience for your team to put away deliveries in a timely fashion.
If your coldroom is in a thoroughfare or likely to be bashed and bumped, you might want to consider bumper bars or other wall protection systems to protect your coldroom.
If your kitchen is awkwardly sized or hard to access, you may want to consider looking outside of the kitchen. External Coldrooms are a great way of increasing site capacity for your chilled or frozen storage without using up large amounts of valuable space within a kitchen or back of house area.
Choose between external coldrooms using the Foster Coldstores weatherproof roof overs (complete with guttering and downpipes), IP rated enclosures (if required for control panel protection) and optional adjustable steel base frames to prevent the need for an expensive and disruptive concrete base.
Our external coldrooms are available in three colours (white, van dyke brown and olive green), allowing them to blend in to the environment. Learn more here.
If your external condensing unit is set to be in a residential area or noise sensitive areas, you may need to consider low noise units.
3) Configuration
Foster offers three ranges of coldstore. Whether your priority is budget, space or environmental impact, we have an option for you.
All of Foster's coldstores come with an audio/visual alarm as standard. Which alerts staff that the room temperature is outside of its running parameters.
Once you know the basics, work with our experienced team to tailor your coldroom to your specific needs:
Doors
Semi-rebate doors – Perfect for heavy duty usage with a high level of reliability, this is our standard offering.

Viewing panels - Sometimes it's useful to be able to see into the coldroom – glance in via doors with viewing panels, see what's available and what needs to be ordered. These are for chillers only.

Sliding doors – A fantastic space-saving solution if your coldroom opens into a walkway or where a fire escape route needs to be considered.

Flip-flap doors – These personnel doors allow easy access to the coldroom, which is ideal in prep rooms where access is needed often.
Handles and Hinges
Foster coldrooms use market-leading door handles and hinges dirt trap free design with hidden fixing points as standard. We also offer alternative options such as chrome handles and hinges.
Finish
Our coldrooms come in a number of finishes – so whether you want something that blends in or stands out, we have options for you.
Floor
Our flooring options are all non-slip and hard-wearing, such as rigidised mild steel as standard, reinforced floors for heavy duty traffic, stainless finish, aluminium chequer plate or concrete floor finish.
4) Refrigeration type
Foster Coldstores are able to assist with design and recommendations to provide an energy saving solution, whilst maintaining a balance between energy efficiency, environmental friendly and design resilience and capital cost.
The equipment options on offer provide a refrigeration solution to suit any application, they can include:
Remote refrigeration.

Integral, wall and ceiling mounted options.

Multi compressor packs for large schemes.

Water-cooled options.

Various refrigerant options including low GWP refrigerants.

Various ambient options.

Various control solutions.
There are two types of refrigeration: integral or remote.
Integral
Integral refrigeration systems are either wall or ceiling mounted. This is a great option if fresh air can reach the coldroom area so the system can regulate the temperature.
Remote
The most reliable form of walk-in refrigeration. As the name suggests, the remote refrigeration system sits apart from the coldroom. The internal evaporator is connected to the external condensing unit by pipes. The initial capital cost is higher – you have to consider the complexity and distance between the coldroom and where the condenser would be located – but the remote system offers energy savings over its lifetime as well as superior performance and reliability.
Different remote options to consider:
i) Low noise units
Is your coldroom going to be situated in or near a noise sensitive area? We have a wide choice of low noise solutions to suit any application.
ii) Unhoused units
These units can go inside a building where there just isn't space outside. They can be located in plant room applications, stairwells etc. in 32˚C or 43˚C (higher available on request).
iii) Semi hermetic – Longer pipe runs
If your condensing unit is far away from the coldstore, this is the option for you. Our dedicated team will carry out all technical assessments to select the correct unit for your needs.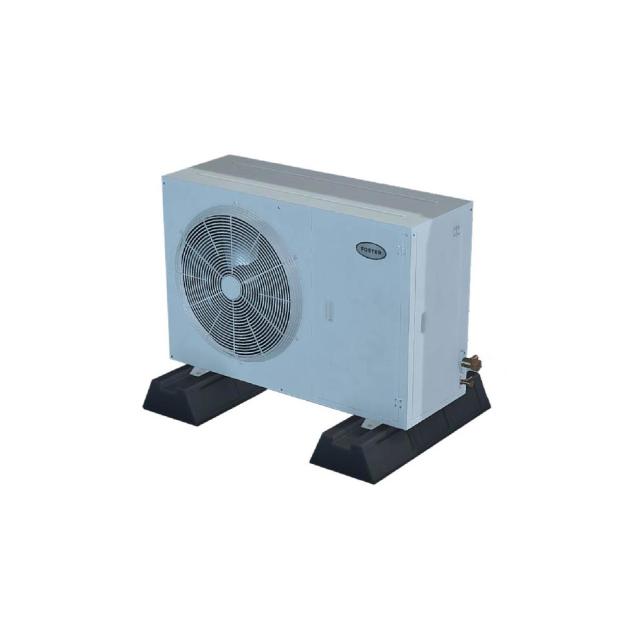 Multi-Room Compressor
These units are suitable for providing cooling to multiple rooms by having one large central refrigeration system which can help deliver significant energy saving.
Control panel and temperature monitoring
On top of these key considerations, we offer a number of optional add-ons so your coldstore fulfils all your requirements.
Personnel trap alarm – an internal alarm that lets staff signal they need help in the unlikely event they become trapped.

Door open alarm – make sure your food is not at risk of being stored at the wrong temperature if the door is accidentally left open.

Emergency light test switch which allows you to manually check if operational

Stainless steel finish

100% refrigeration back up with 7-day auto changeover for peace of mind and valuable high-risk stock

Custom controller to suit application.

Temperature Monitoring – receive real-time alerts from an automated wireless temperature monitoring system.
Quick check guide
Is my priority budget, energy efficiency or space?
Capacity required?
Space available?
Internal vs External?
Does my space suit integral or remote refrigeration?
Future expansion plans?
How can I make it best fit with workflow?
Is there a low noise requirement?
Should I consider bumper bars?
What style doors work best in my kitchen environment?
The Foster Difference
When you purchase any Foster Coldstores product, you benefit from:
A product manufactured in the UK

Professional advice and quotation from our estimating team

Free project management

Low-energy options

Quick turn-around from site survey, specification, design, manufacture & installation

Excellent reliability, supported by our standard 12 months warranty with 24/7 service support

Full UK coverage, with delivery direct from our manufacturing plant using our dedicated transport partners

Products manufactured and installed to ISO9001, ISO14001 and ISO45001 quality standards.