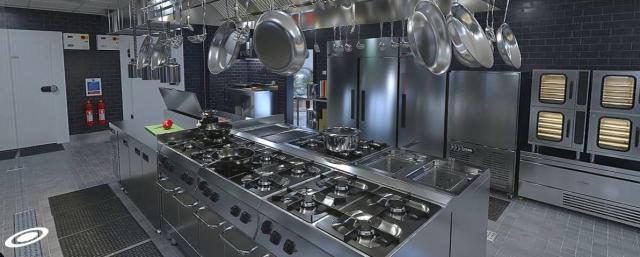 Designing Your Commercial Kitchen Layout
Some commercial kitchens just work. Utensils are close at hand, doors open the right way and the flow of preparing dishes works well, reducing the potential for people and things to clash.
This is, in part, achieved by having a well-designed and well-laid-out commercial kitchen. It's invaluable in helping to maximise productivity and comfort, as well as improving the hygiene of food and the safety of service. Ultimately, your commercial kitchen layout can determine how quickly and efficiently food is prepared and served to customers.
This article will help you achieve the optimum commercial kitchen layout, no matter how big your kitchen is or how many staff you have. While some of the advice will be relevant to specific kitchen sizes, much of it is based on universal principles.
The five pillars of commercial kitchen design
There are five key areas to consider when designing a commercial kitchen. All businesses should address them when deciding on their kitchen layout to ensure all elements work in unison. These are:
Food storage

Food Prep

Cooking

Service counter

Washing up
Food storage
All food – raw and cooked - must be kept fresh, free from contamination and at the correct temperature. Refrigeration and freezing units should be kept separate from cooking equipment, so your refrigeration units do not have to overwork to stay cool. Create an energy-efficient kitchen to save your business money.
As well as bulk storage areas, such as blast fridges and walk-in fridges and freezers, you should consider localised refrigeration. This should include one or more undercounter refrigeration units, otherwise known as day fridges. Allowing kitchen staff to stock up the day fridge from the main fridges prior to prep makes the process much more efficient – cutting down on unnecessary traffic within the kitchen space. This is vital in a small kitchen where it is all the more important to ensure the space works efficiently.
Food preparation
Crossover of raw product is a major issue and proper segregation of processes should be addressed. Environmental health officers are increasingly keen on segregation, so it is essential to consider this as you design your commercial kitchen layout.
Steps should include creating clearly defined areas for the preparation of food of different types. Ideally, food preparation should be positioned between bulk storage and your cooking area. Where possible, segregation should account for the following areas associated with specific processes:
Raw meat/fish prep

Poultry prep

Vegetable prep

Cooked food prep

Pastry/dessert prep
Larger premises often create chilled preparation areas for high-risk foods. Where chilled prep zones aren't feasible, smaller businesses must implement strict regimes to ensure segregation of processes: ensuring utensils and prep surfaces are suitably sanitised between processes.
Important items to incorporate into your preparation areas include:
Prep tables

Prep sinks in each area where possible: fish, meat and veg prep areas

Under-counter refrigeration/day fridge

Pot sinks

Hand wash facilities

Wall shelves where possible
Environmental health officers can also help you in checking that your kitchen design complies to regulations and preferences.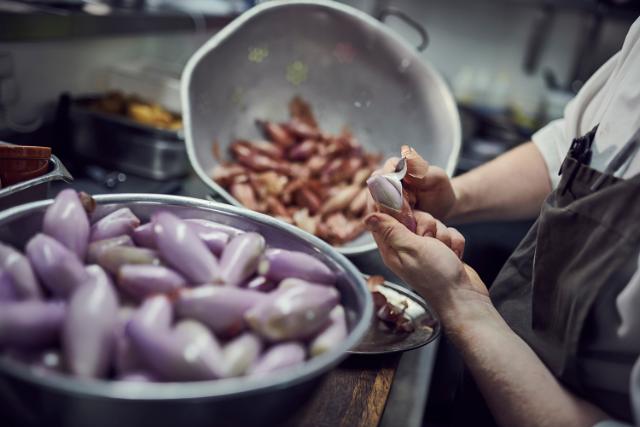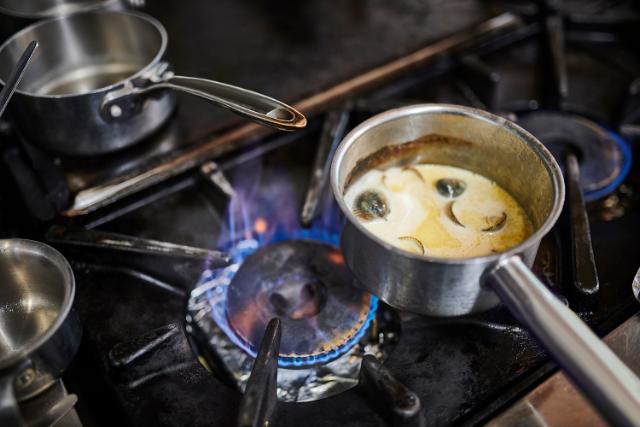 Cooking
The location of cooking equipment such as ovens, hobs and microwaves is essential for smooth prep and service in a commercial kitchen. These elements – as well as the placement of storage – should be strategically considered so that kitchen staff take as few steps as possible, with minimal bending, reaching, walking and turning.
Commercial kitchen ventilation is a key part of your catering kitchen, so cooking equipment should also be strategically placed to promote the ventilation hoods' efficiency. Where gas cooking equipment is used, there are stringent rules and regulations around ventilation and gas safety interlock systems need to be installed.
One much-overlooked factor is space between equipment, especially where doors need to be opened, so ensure that these can be opened while staff can still walk freely around the kitchen. It is well worth including door trajectories on your kitchen plan.
Service counter
The best kitchen designs give front-of-house staff have easy access to the pass. You should focus on minimising the amount of movement staff are required to do, and the location of the service counter plays a key role. It is important to build an efficient and safe flow of waiting staff ensuring a minimum of movement as well as avoiding collisions as they to and fro from the dining area.
Washing up
Sinks and dishwashers should be situated near plate, glass and cutlery storage to minimise movement around the kitchen. As well as preparation sinks there should always be a dedicated pot wash sink and hand wash basins with soap and hand drying facilities available at key points around the kitchen.