Specialist
RANGE OVERVIEW
Specialist
Specialist refrigeration perfect for dedicated purposes.
Packed full of innovation for the most demanding kitchens
Bakery cabinets
A range of specialist bakery equipment provides superb standards of reliability, hygiene and temperature control.
Designed for bakeries
Designed to take 30" x 18" trays
Food safe
304 is the gold standard in performance stainless steel and our unique polishing system means the heaviest touchpoints in a kitchen are covered.
Mobile heated cabinet
Mobile heated cabinets ideal for transporting heated product to the point of service.
Efficient
Our heated cabinets can maintain +70ºC for up to one hour without power (depending on food type and quantity).

Reliable
Easy to manoeuvre and reliable, our heated cabinets are ideal for transporting heated products to the point of service.
Humidity reservoir
Built in humidity reservoir keeps heated food in perfect condition prior to service.

No cold spots
Fan assisted heating and insulated cabinet ensures uniform temperature for food holding.
Gastronorm roll in cabinet
Roll in cabinets provide useful trolley loading refrigerated storage. Our range stores large quantities of chilled or cooked food quickly and easily.
Efficient
Roll in refrigeration minimises food handling, increasing the level of hygiene and food safety.

High capacity
Industry leading design offers the maximum storage capacity on the smallest possible footprint.
Hygienic
Easy to clean. The storage compartment has smooth surfaces and coved corners with separate fan housings.

Flexible
A range of trolleys, shelves and pans are available.


Chest freezers
With all the quality characteristics associated with Foster products, these robust, large capacity chest freezers are finished in a white laminate exterior with aluminium interior and a stainless steel lid for increased protection.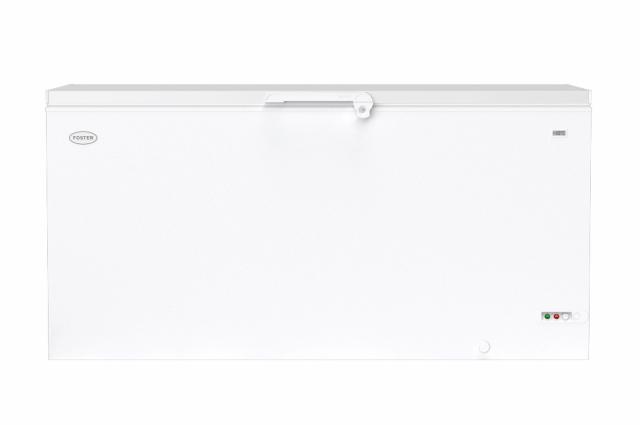 Simple
Control panel with 'on' light, thermometer and quick freeze switch for simple control.

Secure
Our chest freezers have integrated locks for security.
Durable
Our chest freezers are designed with stainless steel lids for increased protection.

Perfect for hot kitchens
Climate Class 5, for operation up to 40˚C ambient temperature.


Visit our immersive showroom